Regional Overview of Food Security and Nutrition 2021
1st December, 2021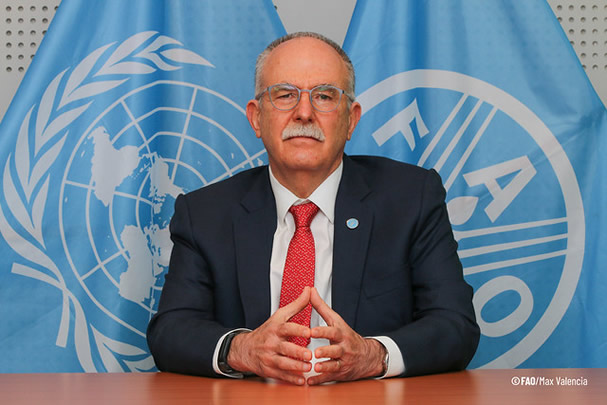 Mr Julio Berdegue, Assistant Director-General.
Regional Representative for Latin America and the Caribbean
Hunger in Latin America and the Caribbean is at its highest point in 20 years and food insecurity affects 4 out of every 10 people.
Those are just two of the red flags raised by a new report from five United Nations agencies. The Regional Overview of Food Security and Nutrition 2021 shows a very dire situation: 60 million suffer from hunger, 267 million people suffer from moderate or severe food insecurity and 106 million live with obesity.
Undoubtedly, the COVID-19 pandemic is partly responsible for the deterioration of food security seen across countries: In 2020, the number of people suffering from hunger in the region increased by 30 percent, an unprecedented spike, never seen before. Furthermore, due to increasing poverty, falling income, inflation and rising food prices, millions of families are having to opt for poorer diets and less nutritious food, which is seriously affecting their food security and quality of life.
But while the pandemic has undoubtedly had an effect, hunger in the region has been growing for years: the number of people who live with hunger increased by 79 percent since 2014, which means that an additional 26.5 million people fell into hunger. Latin America and the Caribbean continues to be the region of the world where it is most expensive to eat healthy: considering this, it should not be a surprise to us that one in every four adults lives with obesity, and that overweight children has been on the rise for two decades.
How do we get out of this dynamic? Undoubtedly, a fundamental part of the solution is to include food security as an important objective of the strategies and policies with which countries will seek to recover from the social and economic crisis generated by the pandemic.
The fight for food security requires more jobs and higher labor income, especially for the most vulnerable sectors. As the recovery from the pandemic will be uneven between countries and social groups, we must maintain and strengthen the social security and assistance programs created during the pandemic, with a strong focus on the poorest families and on all those informal workers who lost their sources of income during these long months, until these households can recover their income levels prior to the health crisis.
Future recovery will require public and private investment aimed at solving the structural weaknesses that were exposed by the pandemic, since this will not be the last time that we will face similar challenges: wholesale markets must be resilient to these types of impacts, and family farmers and wage workers in agriculture and agribusiness must have social security. We need to strengthen local markets, both in the countryside and in cities, in order to ensure distribution channels for healthy food with high nutritional quality even during times of great crisis and social stress.
If we do not develop more efficient, resilient and inclusive agri-food systems, we won't be able to face challenges such as the increase we are seeing in international food prices, and the rise in the cost of agricultural inputs and fertilizers. These are global factors that are beyond the control of national governments: addressing them requires investing and increasing the efficiency of our food systems, in order to pass these efficiencies on to producers and consumers.
We have seen how governments have mobilized to act against the pandemic. But we urgently need a vaccine against hunger and malnutrition. This vaccine is the transformation of agri-food systems to make them more efficient, resilient, inclusive and sustainable, ensuring better production, better nutrition and a better environment, for a better life.
Notes
Kindly note that the countries included in the 2020 estimate for the Caribbean subregion are: Dominican Republic, Grenada, Haiti, Jamaica, Saint Lucia, and Saint Vincent and the Grenadines. The results are highly influenced by the inclusion of Haiti. Together, these countries represent about 60 percent of the Caribbean population.
The Regional Overview of Food Security and Nutrition 2021 is a joint publication of the Food and Agriculture Organization of the United Nations (FAO), the International Fund for Agricultural Development (IFAD), the Pan American Health Organization/World Health Organization (PAHO/WHO), the World Food Programme (WFP), and the United Nations Children's Fund (UNICEF).