Opening Ceremony, Caribbean Week of Agriculture
4th October, 2021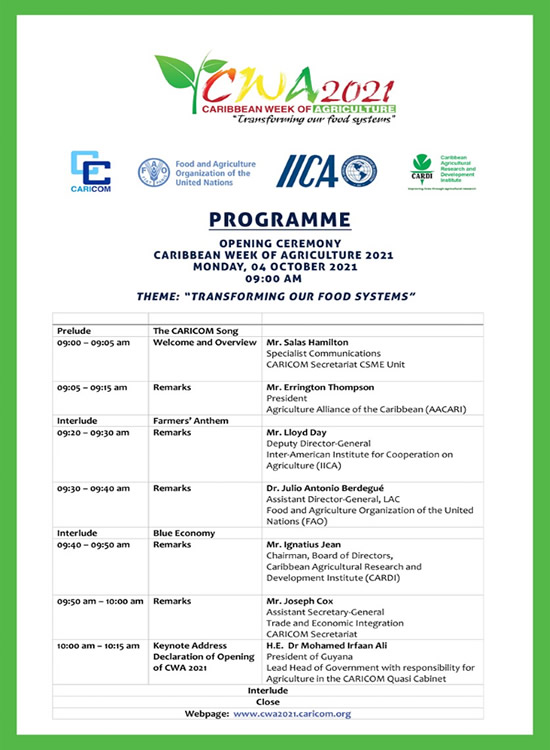 Caribbean Week of Agriculture (CWA) gets underway 4 October 2021. The virtual event will feature at least 32 activities and more than 100 speakers whose presentations will be aligned with the theme 'Transforming our Food Systems'. A virtual marketplace also forms part of the novel event.
His Excellency Dr. Irfaan Ali, President of Guyana and Lead head of Government with responsibility for Agriculture in the CARICOM Quasi Cabinet, will deliver the keynote address at the Opening Ceremony.
The Opening will also feature remarks by CARICOM Assistant Secretary-General, Trade and Economic Integration, Mr. Joseph Cox; Chairman, Board of Directors, Caribbean Agricultural Research and Development Institute (CARDI), Mr. Ignatius Jean; Deputy Director-General, Inter-American Institute for Cooperation on Agriculture (IICA), Mr Lloyd Day; Dr. Julio A. Berdegué is FAO Assistant Director-General and Regional Representative for Latin America and the Caribbean.
Representatives of the media are invited to cover the following:
Event: Opening Ceremony, Caribbean Week of Agriculture
Date: 4 October 2021
Time: 9 am
The event will be livestreamed on:
Facebook: https://www.facebook.com/caricom.org
Youtube: https://www.youtube.com/user/caricomorg
To register to attend and cover events, visit: cwa2021.caricom.org