Antigua Sailing Week Virtual Edition
26th April, 2021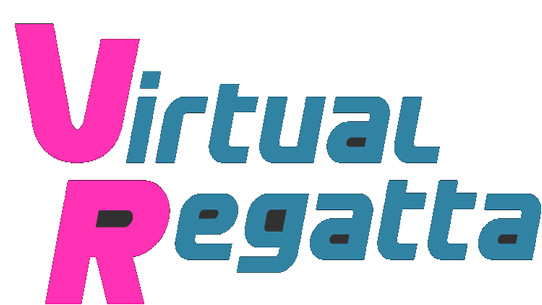 The Antigua & Barbuda eSailing National Championship goes live April 24th, 2021. All players who assign their jurisdiction as Antigua & Barbuda (as verified by the Antigua & Barbuda Sailing Association) will be eligible to compete in the championships. The nationals will be held later in the year, and the top 10 ranked sailors will also qualify for a spot in the playoffs for the eSailing World Championships which will take place in September 2021. Antigua & Barbuda Sailing Association will also enter a team in the eSailing Nations Cup 2021.
The timing of the championship launch is in conjunction with Antigua Sailing Week. Antigua Sailing Week (ASW) will be an event held as part of the eSailing World Championship in Virtual Regatta Inshore and will run from April 26th to May 2nd, 2021. The boat used will be clearly branded with the Antigua and Barbuda Tourism Authority and ASW logos. Read more here .
---
Antigua Sailing Week goes Virtual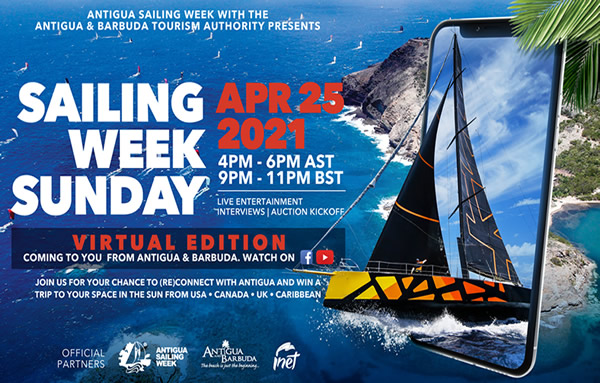 Antigua Sailing Week is pleased to announce Sailing Week Sunday – a virtual event with stories, interviews and entertainment, transmitting from Antigua on April 25, 2021.
Annually the international coverage of Antigua Sailing Week places Antigua & Barbuda as an unparalleled destination for an active lifestyle. With 2022 on the horizon the event is taking this opportunity to begin to build momentum for what will certainly be a bumper year. Read more here.
---
Antigua Sailing Week Announced Virtual Auction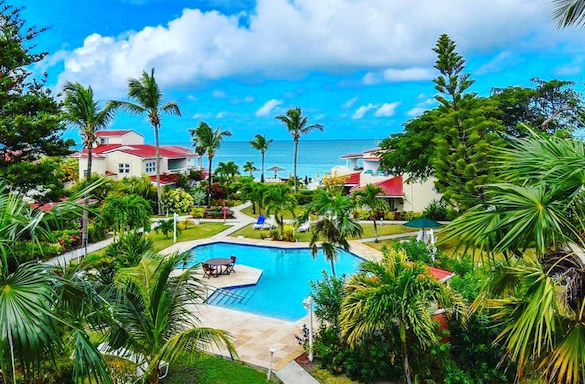 The organizers of Antigua Sailing Week announce a virtual fundraising auction as part of their week of virtual activities being held in lieu of the recent cancellation.
In support of the effort, Minister of Tourism Charles Fernandez had this to say, "We are extremely delighted that the brand Antigua Sailing Week will be kept alive in virtual form this year despite the challenges of the Covid-19 pandemic. This auction also provides the possibility for visitors to get a taste of the unique experiences offered on island that make Antigua and Barbuda stand out globally. We remain committed to keep ASW "front of mind" for all enthusiasts until 2022 when we return bigger and better than ever before!"
---
Celebrate Antigua Sailing Week by entering to win incredible vacations to Antigua and Barbuda staying at Carlisle Bay Resort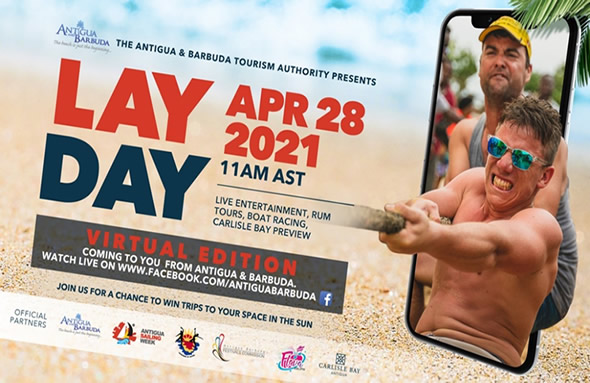 Antigua Sailing Week 2021: The Virtual Edition is set to take place from April 25 – April 30 in Antigua, and the Antigua and Barbuda Tourism Authority and the luxurious Carlisle Bay Resort are celebrating the event, by providing vacationers with the chance to win – incredible vacations to Antigua staying at the five star Carlisle Bay Resort. Read more here.