COVID-19 Vaccination comes to the Public Market
16th Arpril 2021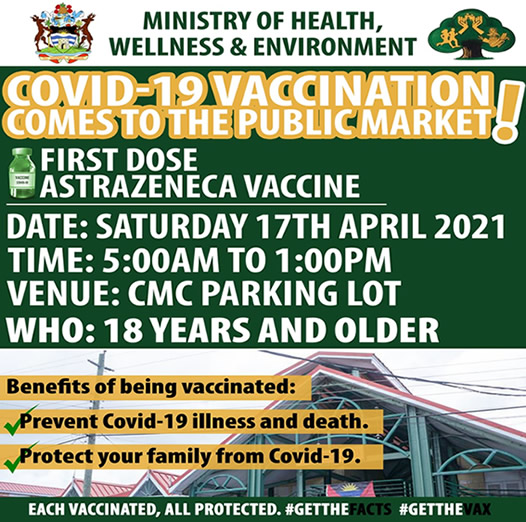 The Ministry of Health, Wellness and the Environment will be taking the Covid-19 Vaccination programme to the public market to cater to individuals who wish to receive their first dose of the Astra Zeneca vaccine but may not be able to visit the vaccination sites during the week.
This Saturday, 17th April, 2021, citizens and residents can visit the mobile vaccination unit in front of the parking lot of the Central Marketing Corporation (CMC) starting at 5:00am until 1:00pm.
Persons who are 18 years and older are encouraged to participate in the COVID-19 vaccination programme.
Vaccination will resume on Monday at the 4 public COVID-19 vaccination sites located at the Villa Polyclinic, the Glanvilles Polyclinic, the Multipurpose Cultural and Exhibition Centre and the Precision Centre in Paynters. Vaccination sites operate Mondays through to Fridays from 9:00am to 5:00pm.
A total of 28, 414 persons have been vaccinated under the COVID-19 public vaccination programme of the Ministry of Health, Wellness and the Environment as of Thursday, 15th April, 2021.