Crew of the First International Airline to land in Antigua after borders re-open are shown Appreciation
8th June, 2020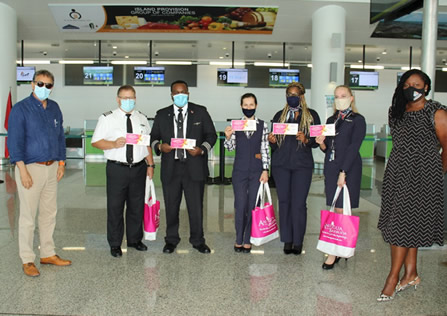 The Ministry of Tourism teams up with members of the ABHTA to show
appreciation to the crew of the first international airline to
land in Antigua after borders re-open.
(St. John's Antigua; June 6, 2020)- Antigua and Barbuda welcomed our first international commercial flight last Thursday after closing borders in March due to the Corona Virus Pandemic.
The American Airlines direct flight from Miami brought approximately 140 passengers, most of whom were nationals.
To show appreciation to the flight crew, the Ministry of Tourism and Investment rallied with the membership of the Antigua and Barbuda Hotel and Tourism Association and presented the 6-member crew with gift vouchers for complimentary hotel stays.
The hotels which came onboard for the initiative were Sugar Ridge, The Inn at English Harbour, and the Antigua Yacht Club; who offered the crew complimentary 3-night stays. Tamarind Hills and Hodges Bay Resort and spa also came on board for the initiative and contributed complimentary 2-night stays.
Prior to the crew's departure for Miami yesterday (Fri), Minister of Tourism and Investment, Hon. Charles Fernandez and the Executive Director of the Antigua and Barbuda Hotels and Tourism Association, Patrice Simon made the presentation of vouchers to the American Airlines crew, thanking them for their exemplary service on the first international flight back to Antigua and Barbuda as we reopen our borders to welcome tourists and nationals back home.
The crew members included Captain Matthew Cartier, and First Officer Brian Chase who is an Antiguan. Flight Attendants, Anna Hughes, Krishta King, Tatyana Panfilenko and Phyllicia Pollard who is also an Antiguan made up the rest of the crew.