Hodges Bay Club compiles extensive Viral Mitigation guide for implementation upon resumption of operations.
28th May, 2020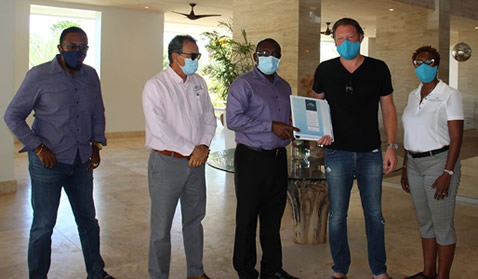 (St. John's Antigua; May 28, 2020) Hodges Bay Resort & Spa has produced a working document to cover the prevention of any viral strain that may threaten the well-being of its staff and guests.
The compilation dubbed "Viral Mitigation Policies and Procedures", highlights all standard operating procedures to be adopted by the property in the event of any viral outbreak. It covers policies to guide the actions of staff in areas of guest management, cleaning and disinfecting, room management, laundry operations, and food and beverage.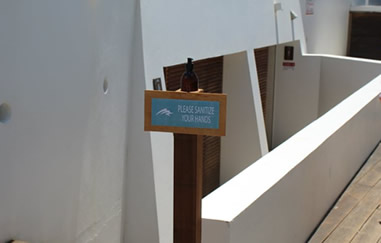 In some cases, the adaptations are pioneering to the local hotel sector:
48 hours hold on rooms recently vacated.
Rooms sanitized and sealed daily.
48-hour laundry lock and pre-wash sun disinfecting process.
According to Jeff Wellemeyer, CEO and Chairman of Hodges Bay Resort & Spa, the Hotel management is quite cognizant of the extenuating circumstances caused by the onset of Covid-19 worldwide and sought to adapt the best practices of leading global corporations such as Disney who enlisted the experts of the John Hopkins University to compile their list of operating protocols.
A nurse's station has been secured on property with two nurses and two doctors on call for 24-hour periods and temperature checks have become a mandatory part of the resorts staff and guest check-in procedure.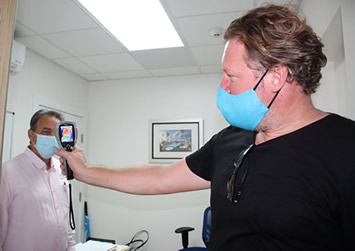 All staff members are also being asked to complete an on-line health checklist prior to leaving for work and this checklist is instantly screened to prevent sick staff members from attending work while exhibiting symptoms of a viral infection.
A copy of the document was presented to the Permanent Secretary in the Ministry of Tourism and Investment, Mr. Walter Christopher who was a part of an official delegation inclusive of Tourism Minister the Hon. Charles Fernandez and CEO of the Antigua and Barbuda Tourism Authority Colin James, that visited the property on Tuesday.
Minister Fernandez was quite impressed with the level of commitment exhibited by the Management of the property, stating that they went above and beyond by ensuring that 'they've covered all of the bases to ensure the safety of not just their guests but their staff as well".
"The good thing about this is that a template has been created to ensure consistency of operations to prevent or to contain not just Covid-19 but any similar viral outbreak that may threaten industry operations in the future, and I foresee that other properties will (and should) adopt similar procedures for guidance in these circumstances," said Minister Fernandez.
VP of Operations Celia Morgan noted that a series of in-depth training sessions are already under-way with the resort staff to ensure effective implementation of the procedures outlined in the document.
Once inspected and certified by the Ministries of tourism and health, the resort will officially re-open for operation in early June 2020.