Government locks in contract with Talisker Whisky Atlantic Campaigns.
17th February, 2020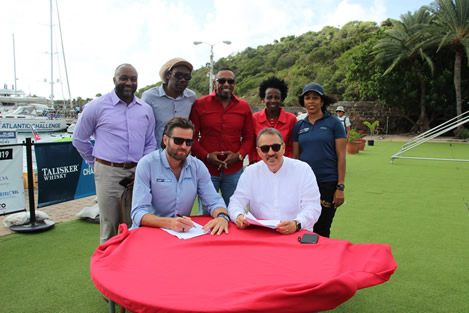 Tourism officials today (Friday,February 14, 2020) sealed the deal for the renowned Talisker Whisky Atlantic Challenge (TWAC) to culminate in Antigua for the next five (5) years.
Minister of Tourism and Investment the Hon. Charles Fernandez saw the formalizing of the agreement as significant, noting that the campaigns have brought tremendous attention to the tourist destination through extensive international media coverage.
" Given the growth that this rowing challenge has seen over the past 7 years and the exposure that has been given to our destination and our local rowers such as Team Antigua Island Girls through their historic feat last year on BBC, BET,CNN and Essence Magazine, this opportunity is nothing short of a win for both parties involved", remarked Minister Fernandez.
He continued that, "2021 will see our first local pairs team participating in the challenge and I can once again anticipate the remarkable PR opportunities and national enthusiasm that will surface as a result".
Carsten Heron, CEO of Atlantic Races also sees the contractual arrangement as extremely beneficial to the race's viability.
"With this year being our 6th race returning to the historic Nelson's Dockyard, we are pleased as organizers that our efforts are being recognized by the Government of Antigua and Barbuda, and this gives us stability for the next 5 years", said Mr. Heron.
The Talisker Atlantic Challenge, a 3,000 nautical mile race dubbed "The World's toughest row" starts from La Gomera in the Canary Islands and culminates at the UNESCO certified World Heritage site Nelson's Dockyard National Park in Antigua.