Hotel Employees Complete Maintenance Course with AHTA
3rd April, 2019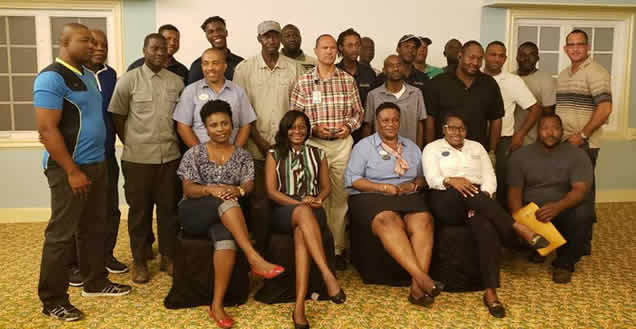 Twenty-two (22) employees from hotels in Antigua and Barbuda recently completed a ten-week course focused on the Introduction to Hospitality Maintenance – a Quality and Safety Management Approach hosted at the Sandals Grande Resort.
The course, facilitated by Mr. Kim Burdon, provided Hospitality Maintenance Managers and Supervisors with a general overview of the maintenance process from Quality, Safety to Document Management.
Anthea Watkins, Head of Operations at the AHTA remarked that 'the AHTA is constantly looking at ways to improve the skills of the employees in the hospitality sector. The Maintenance course was developed to address the needs of our hotel members and we are pleased here at the Association, to have partnered with Mr. Burdon to ensure that this need was met. We are encouraged by the feedback of the participants who will now bring another level of expertise to their individual resorts."
Mr. Burdon presented a challenging ten-week course work, with focus on areas such as Equipment Reliability monitoring; Introduction to Environmental & Sustainability Management and Role, cost and management of Hospitality Facilities, Human Factors & Human limitations. Mr. Burdon stated that "We had an enthusiastic group of employees who are fiercely dedicated to the success of their individual properties. We have covered several areas of study and I am confident that their continued success in their respective roles as Maintenance Supervisors and Managers will guarantee that the Maintenance Operations are working at an optimal level.
The AHTA would like to congratulate all participants.
For more information on courses offered by the Antigua Hotels and Tourist Association, please contact the office via email at anthea or call 268 462-0374
ABOUT THE AHTA
The AHTA collectively represents the hospitality industry by educating, advocating and promoting to increase visitation and the economic benefits for Antigua and Barbuda.
The primary focus is on the needs and best interests of the members of the Association.
The membership of the Antigua Hotel & Tourist Association is open to all hotels, restaurants, airlines and companies directly or indirectly involved in the tourism sector of Antigua and Barbuda. Joining the Association is a way of showing your support of the island's tourism product and helping us to further develop our tourism industry.