Kingsland University paves pathway to blockchain success
28th February, 2019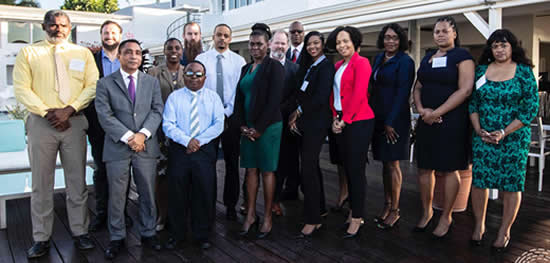 Last week, Senior Government officials of Antigua and Barbuda become first in the Caribbean region to participate in Kingsland University's government outreach blockchain education program. Blockchain, the distributed ledger technology behind Bitcoin and other emerging digital assets, is a critical technological evolution for governments to understand as the enabling technology establishes a global foothold.
"Blockchain represents a significant opportunity for Antigua and Barbuda to establish itself as a key player in the international fintech and technology landscape. By developing robust, clear, and supportive regulatory frameworks for distributed ledger technology and cryptocurrencies, we hope to build opportunities for local and international companies to make Antigua and Barbuda a base for their business interests," said Gaston Browne, Prime Minister of Antigua and Barbuda. "In order to realize our aspirations for Antigua as a center of blockchain innovation, we need to understand both the opportunities and the risks associated with blockchain technology, and we're thrilled that our advisors Paradym Global teamed up with Kingsland University to deliver a tailored education program for our Senior Government Officials."
The senior government officials are members of the blockchain task force that was initiated in September 2018 and consists of Government Officials and private industry along with guidance from blockchain regulatory advisors Paradym Global. "Collaboration between policy makers, regulators and the ecosystem through education will play a key role in the success of Blockchain as a global industry," said Loretta Joseph, regulatory and fintech advisor to a number of jurisdictions and international organizations and Director of Paradym Global. "Understanding what the technology is and what it can do is essential for anyone looking at engaging with and in the blockchain space."
The members participated in the 1-day intensive seminar on the 20th of February in preparation for developing a leading regional standard for regulating distributed ledger technology and implementing policies that support both new economic opportunities and support existing industries to adapt to blockchain disruption.
"Creating a collaborative ecosystem built on knowledge-sharing and mutual understanding, at the highest levels of both government and enterprise, is key to the future of the blockchain industry," said John Souza, CEO and founder of Kingsland University. "At Kingsland, we've been working hand-in-hand with governments around the world, like Antigua, to design tailored blockchain executive programs that provide a solid foundation for these governments to begin building policies and systems that support global blockchain growth and adoption."
Antigua and Barbuda aims to be a key leader in establishing the Caribbean region as the epicenter of disruptive technology globally.