Man Power to monitor CCTV System at Her Majestys Prison in the works.a
25th February, 2019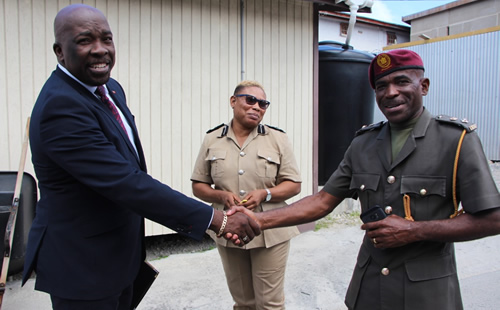 The need to increase the surveillance at Her Majesty's Prison [HMP] utilizing Closed Circuit Television (CCTV) Surveillance is being revisited.
On Monday (today) Minister of Information, Broadcasting, Telecommunications and Information Technology the Hon. Melford Nicholas paid a visit to Her Majesty's Prison to meet with Superintendent of Prisons Lieutenant Colonel Eugene Philip, Permanent Secretary of the Ministry of Legal Affairs Mrs. Stacey Gregg-Paige, as well as Operations and Administration Staff.
The purpose of the Minister's visit is to resuscitate the CCTV Surveillance System at the penal institution.
The CCTV Surveillance System provides a full 360 degree of the perimeter walls of the prison, and allows for a more professional monitoring by trained personnel of the day to day runnings.
The Superintendent of Prisons advised that the additional trained staff is required to man the CCTV Surveillance System in real time.
Additionally Minister Nicholas undertook to the need to identify persons required to man the system.